Latest trends from Techo-Bloc for 2017
We are a certified Techo-bloc contractor. Check out some of these great ideas.
If you are looking for a free estimate–call us 781-828-6126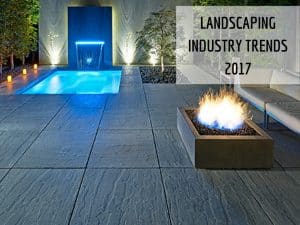 You browse through online catalogues and magazines, you circle around your client's neighbourhoods, you jot down unrelated ideas from places you visited, hoping to find something that'll get your creative juices flowing for your next landscaping project.
But nothing really excites you. You're not seeing anything special that truly captivates you and inspires you.
So you start to wonder: do you lack the vision or the creativity to see the potential of your outdoor project?
Don't despair. We've gathered these new industry trends and products to fill your well of inspiration for your next client meeting.
Let's take a look…
1. Ground-Breaking Surfaces


Ocean slab (left) & Dunes slab (right) by Techo-Bloc
Modern home exteriors are heading towards a textured approach to design with raw and tactile surfaces.
Our newest slab, the Ocean Grande, is a great example. It was inspired by the veins left behind on sandy ocean shores. Perfect for pool decks, this innovative concrete surface is slip-resistant and stays cooler under the feet on hot summer days due to its unique relief and light color pallet.
Another new textured surface is the Dunes slab, which was inspired by, you guessed it, dunes in the desert.
2. Faux Finishes that Are Better than The Real Thing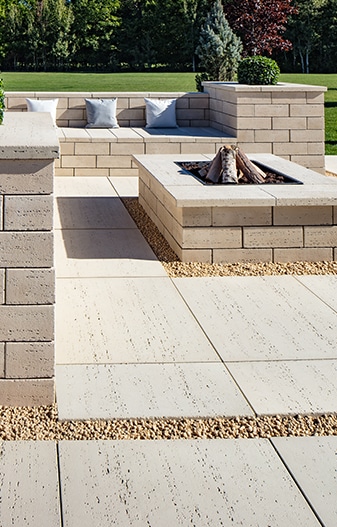 The Travertina Raw slab is a new take on Travertina. The mix-design was improved for more robustness and better stone to stone blending. It's a modern, polished and sophisticated slab with a subtle matte finish.
Available in various dimensions and colors, it can be mixed and matched so you can easily achieve tailored patios, walkways, and transitional spaces. We also offer a wall, pillar and cap collection so you can build all the outdoor features you want.
3. Make it Minimal, Make it Gray


Subdued, quiet and elegant, grays continue to be the muted colors of choice when it comes to creating a sense of calmness. At Techo-Bloc, we embrace this trendy esthetic with the Blu Grande collection which plays on smooth, polished and galaxy textures. The Aberdeen slab Riviera in shale gray is another gray option that imitates the natural look of slate stone.
4. Wood Finishes that Aren't Wood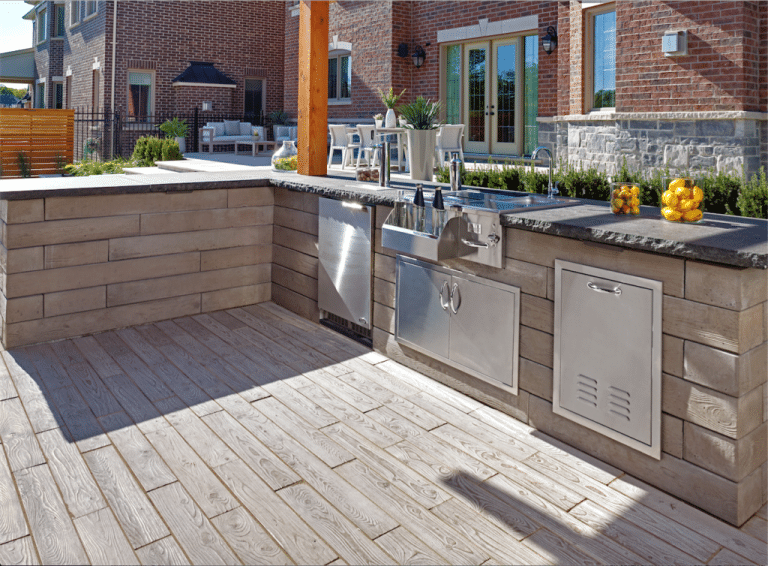 As the demand for wood aesthetics grows, homeowners are looking for woods that are more practical and maintenance-free. The Borealis stone collection is a splinter-free, weather resistant and maintenance-free alternative. It creates remarkably versatile outdoor designs features.
For a more modern approach to rustic design, mix the wood-effect of Borealis with the stone texture of concrete slabs.
5. Walls that Aren't Just Walls


Versatility is the name of the game here. We're really proud to say that Techo-Bloc's wall systems are among the most licensed in the world by other concrete manufacturers. It's easy to see why when ease of installation, solidity and beauty come together to create versatile walls that can build virtually any outdoor feature. Homeowners want matching materials and this is a great example how you can make that happen over many applications.
Graphix is an eye-catching and soil-retaining wall that combines chiseled and smooth faces to create a 3D visual effect in many types of vertical applications; perfect if you're seeking something modern and out of the box.
6. Signature Entrances that Make a Statement


Asphalt and poured concrete are being left aside for a personalized and custom-style pavement that makes a home look more polished and well-maintained.Techo-Bloc pavers come in different shapes, textures, and colors and are thus ideal for creating your own signature look. These interlocking pavers are also salt-resistant and designed to withstand vehicle traffic.
The Antika pavers are perfect if you want to create a rustic look, while the Blu 80 mm collection allows for a more modern approach. Creating bandings of thin long pavers like the Industria 600x100mm between rows of square pavers like the Industria 600×600 creates a tastefully modern look. If you
Lighting is a key architectural and design element in a home. Adding fire features to your outdoor space warms it up and creates a soothing ambiance. At Techo-Bloc, we carry a suite of fire features for the outdoors that can be converted from wood-burning to natural gas to suit different applications. Featured here is a custom-built fire pit with Borealis wall that doubles as a coffee table and a storage place for wood. If you're going with a wood-burning setup, don't forget to line the fire pit with fire brick.
8. Built-in Kegerator

The man cave has moved to the outdoor kitchen where bars, bar stools, kegerators and ice buckets give you everything you need for a good time outside.
9. Outdoor Showers to Rinse off Salt-Water or Chlorine from the Skin


For the health-conscious or clean freaks, outdoor showers let homeowners and guests rinse off the toxins from the pool. Inspired by exotic destinations like Hawaii and Bali, the outdoor shower adds a fun tropical feeling to the backyard.
Create an Outstanding Outdoor Space
When lacking ideas to build an outdoor living space, you must pick the right resources. Resources that are up-to-date, cutting-edge, and distinctive.
If you want to go from "Meh" to "Wow", use this new industry trends and products to truly distance yourself from other outdoor spaces.
Remember, you need to gain prominence in outdoor design.
You need to be a trend-setter.
You need to stand out.
So go ahead, be original and create interesting projects that people have never seen before.
That's how you get referrals.