Dangerous hogweed spotted in Stoughton.
BOSTON — COURTESY WCVB-BOSTON 6/22/18
Giant hogweed is an invasive species that can form huge blisters and burn your skin, biologists say.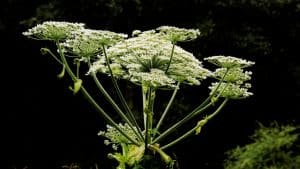 It's currently infesting 14 Massachusetts communities, and state officials are keeping an eye on its spread.
The hogweed can be found along roadsides, vacant lots and along streams and rivers. It prefers rich, moist soil, in semi-shade conditions. They reach 10 to 15 feet in height.
Seedlings emerge in early spring. Leaves also arise from the large, tuberous roots that store much of the plant's energy. White flowers appear from mid-May through July, and flower heads are umbrella-shaped with a flat top and may reach two-and-a-half feet in diameter.
Hogweed has recently been spotted in Acton, Blandford, Brimfield, Dover, Hinsdale, Lee, Martha's Vineyard, New Marlborough, Peru, Southwick, Stoughton, Sutton, and West Springfield, and control efforts are still in progress, according to the state Department of Agricultural Resources.
It was eradicated from Andover, Boston, Gill, Groton, North Brookfield, Northampton, Sandwich, Wakefield and Westfield.
If there is a danger of coming into contact with giant hogweed, officials recommend you wear gloves, pants, long sleeves and eye protection. They also say care should be taken to avoid spreading the seeds of the noxious weed.
If you think you may have seen a population of giant hogweed, contact the Massachusetts Department of Agricultural Resources at 617-626-1779.