Love our Patio and Fire Pit
November 16, 2020
Love our Patio and Fire Pit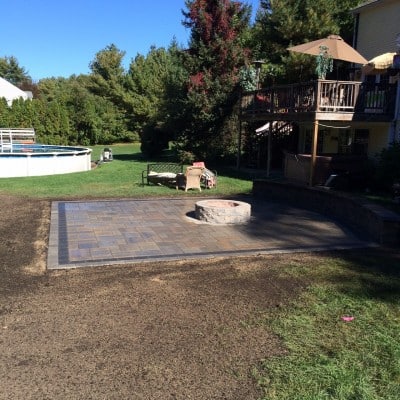 Just a short note to let you know just how "extremely" happy we are with the patio and fire pit!!
As happy as Cheryl is. our boys are even happier. If you could have seen them that first weekend, 55" TV on the wall with a pop up tent over it to block the sun, a raging fire in the fire pit and 15 boys sitting around it watching NFL Red Zone all afternoon. What a sight!
We can't thank you enough for the time spent with us going over placement, size, shape, color etc.
You were able to answer all of Cheryl's questions…and she had a lot of them!!
Your crew was absolutely fantastic, professional, friendly and always willing to interact with us at any stage of the process. They cleaned up at the end of each day and left my yard in much better shape when the project was completed vs. when you started.
Thank you again for a wonderful job well done!!
Peter & Cheryl Cmaylo
Foxboro, MA