Blue Hill Country Club in Canton For Sale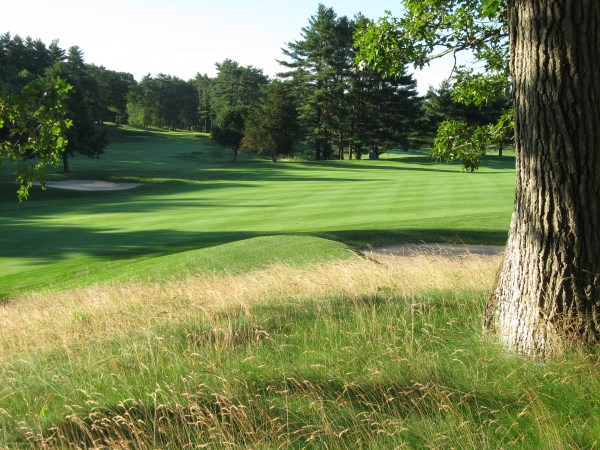 Blue Hill Country Club, site of PGA Championship in 1956, up for sale
By Callum Borchers GLOBE STAFF JULY 22, 2015
By the end of the month, the winning bid will be in for the only Massachusetts golf course to host a PGA Championship.
What's still a mystery is why Blue Hill Country Club in Canton is on the block in the first place.
Officials aren't talking about what prompted the member-owned club to put a 100 percent stake up for sale after 90 years in business, and public records offer few clues. Unlike some private clubs, Blue Hill Associates Inc., as the members' group is known, is not a nonprofit, meaning it is not required to make financial information public.
The club has not filed for bankruptcy, and property records reveal no foreclosure notices or tax liens.
Assessed at $5.2 million, the 210-acre property includes the original, 18-hole course designed by Skip Wogan and a nine-hole "challenger" course designed by Wogan's son, Phil Wogan, which opened in 1961. It is listed without an asking price by Fairway Advisors LLC, a Dallas-based golf course broker. Prospective buyers can tour Blue Hill Wednesday and Thursday and must submit offers by July 31, according to the listing.
Fairway Advisors president Jeff Davis declined to answer questions about the club, saying he wasn't authorized by his client to speak to the press.
Club president Jim Marano said in a brief e-mail exchange that "we have tremendous interest in the club by both national and local prospective buyers. At this time, however, it is not appropriate for us to discuss the matter publicly."
Phone messages for the club's treasurer and secretary were not returned.
Blue Hill's clubhouse was built in 1956, the year the original course hosted the PGA Championship, and is roughly 45,000 square feet. Along with The Country Club in Brookline, which staged US Opens in 1963 and 1988 — and likely will again in 2022 — Blue Hill is one of only two Massachusetts golf courses to host a major championship in the last 90 years.
It also was a regular stop on the LPGA Tour from 1991 to 1997.
Callum Borchers can be reached at callum.borchers@globe.com. Follow him on Twitter @callumborchers.